NOTE: Both outbound relay options can be used in different situations with success. We recommend that if one of the two methods listed here is not working that the other method should be attempted.
Login to the Mailprotector management console

Navigate to the domain where the scanner, applications, web or fax server is located

Select the "Mail Flow" tab

Scroll to the "Outbound Email Source IPs" section of the page

Select the "Add" option under "Where is your email coming from?"
Input the IP address of the application mail server that we should accept outbound messages from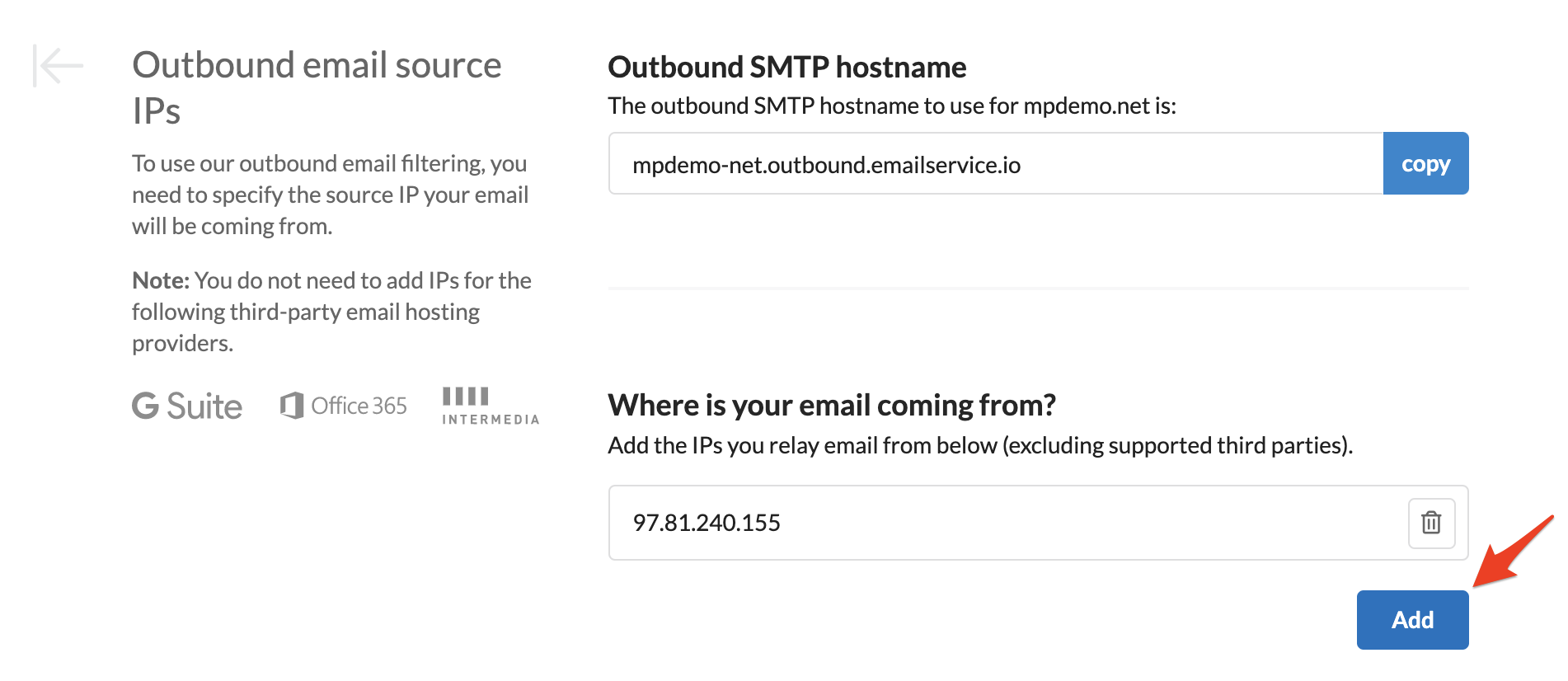 7. Add the device as a user into the console
NOTE: If the user is not in the console, Mailprotector will bounce email from the scanner/application/web/fax. Make sure the user is in a group in the console that doesn't have User Sync running on it. The User Sync will remove any manually added users from the console. You will also want to change the user type for the user to a non-billable user type.
Target Hostname - <your domain>.outbound.emailservice.io
Verify:
Make sure you relay from an address that is listed under your Users tab (either as a mailbox or an alias address).
Troubleshooting: Causes for failed delivery
Public IP not listed in Mail Flow > Outbound Email Source IPs
Sending address not valid - Does not exist under Users.
___________________________________________________________________________________
Use case:
Outbound port 25 restricted
Using TLS | Port 587
Configure your server or device to relay outbound using SMTP Auth.
Server: smtp.cloudmail.email
Port: 587
UN: Address from your Users list
PW: The password created/used for this address (on your Mailprotector management panel)
The User Type must not be a "Mailing List" user type

Your Username and Password information should be set on the specific address settings page (below). This is the full email address and password you will use when configuring SMTP Auth.
To Set Up Password, Navigate to User Profile:
Login Mailprotector Management Panel
Search address with the Search navigation bar or Navigate to the individual user via Domain -> Users -> Select User
Select the ellipse icon on the far right-hand side
Set the password for the user with your preferred method.
Troubleshooting
Issue - Exchange server has TLS enabled but does not default to port 587
Solution - Run the following powershell command on your Exchange server - where "MySendConnector" is replaced with the name of your send connector.
Set-SendConnector "MySendConnector" -Port 587